"Understanding our children's frustrations with dyslexia and giving them the tools to blossom will give them the confidence to reach their true potential." ~ Carolina Fröhlich
Carolina Fröhlich is the award-winning author of a coaching book for parents: 'Dyslexia: TIME FOR TALENT' (The Ultimate Guide for Parents and Children – from early years to university) and recipient of multiple 5-star reviews and many recognitions. 
Carolina is Coach for High Achievers, an international speaker, author and qualified specialist teacher. She coaches and mentors adults, parents, children and teachers. She speaks at seminars in the UK and British and American International Schools worldwide.
She is also the author of the I CAN SPELL successful series of high and medium frequency spelling workbooks for children.
---
"Dyslexia: TIME FOR TALENT ®" (The Ultimate Guide for Parents and Children)
Early Years to University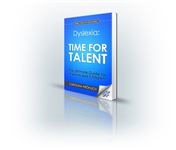 Amazon UK
Amazon USA
Amazon España
Amazon Deutschland
Amazon France
Amazon Italia
Amazon Nipon
How to Conquer and Embrace Dyslexia
✔ Discover how children can learn successfully
✔ Learn excellent strategies for home and classroom
✔ Find proven learning solutions
✔ Boost your child's self-confidence and self-esteem
✔ Raise achievement potential
✔ Access emotional support (parents and children)
✔ Manage behaviour and survive homework time
✔ 'Get physical': health, nutrition and exercise
About the book:
Personal stories from parents and children
What is dyslexia and the signs to look out for
Children's basic needs and their Road to Success
The implications of having dyslexia in the classroom and in life
Getting support
Advocating for your child
Educational assessments
How children with dyslexia learn best
Develop self-confidence in your child and create high levels of self-esteem
Motivation strategies
Understand dyslexia challenges and successful proven solutions
How short-term/working and long-term memory works
Learning tips for literacy and numeracy
Homework and study skills
How to choose the right school
After school: college and university
Information about other related learning differences: dyspraxia, dyscalculia, dysnomia, 

dysgraphia

, ADHD, Speech and Language, Auditory Processing Disorder, Sensory Processing Disorder,

Austim

and Asperger Syndrome, OCD
TIME FOR TALENT® is the only book parents will need to guide and empower their children through dyslexia, from early years to adulthood. It is the first book of its kind to address dyslexia from a holistic perspective. From personal and professional experience, Carolina knows that if dyslexia is not addressed early, considerately or holistically, it will affect children's self-esteem, morale, achievement potential, self-confidence and much more. It can also affect the harmony of family life too.
This book really supports parents and helps them understand what is happening in their children's hearts and minds, what is going on in the classroom, and strategies to help and support their child in and out of school. The book is a result of working with hundreds of parents who were very frustrated about not understanding what their child is going through and unable to find all the information they need at an easy, practical and empathic level.
Every child has a talent and Carolina shows the reader how to identify and focus on that talent whilst dealing with a myriad of learning challenges at school. She encourages parents to maintain a positive, sensitive attitude when working with children with dyslexia, focusing on the different ways children learn successfully.
---
I CAN SPELL children's spelling workbooks
The I CAN SPELL series of  High and Medium Frequency spellings are highly successful spelling workbooks for children available on Amazon UK, Helen Arkell Dyslexia Centre, Waterstones, WH Smiths among other book stores. Amazon store
You can find more detailed information here I Can Spell Workbooks.
---
#awardwinning #book #author #coach #dyslexia #dyspraxia #education #parenting #teachers #schools #SEND #SEN