1 to 1 Coaching Luxury Break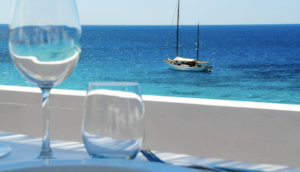 You are the most important asset in your life and business.
How much quality time do you take off just for you? When are you able to regroup your thoughts, feelings, generate new ideas, focus on your goals and completely relax at the same time?
This much needed coaching break is the perfect opportunity to recuperate, regenerate and brainstorm in stunning surroundings, whilst receiving 1:1 coaching to address your visions, goals, businesses and life. You will return home empowered, inspired and relaxed. 
Your 3-night long-weekend coaching break, or 6-night retreat, at a 5-star luxury hotel on the Balearic island of Eivissa, is uniquely tailored to you.
Eivissa, aka Ibiza, is UNESCO protected natural heritage, with a glorious mix of VIP luxury and down-to-earth, soulful living. Here, you will reconnect with your mind, body and soul. The island is blessed with ancient Phoenician, Carthaginian and Moorish old ruins architecture and culture that dates back 2,500 years. Immerse yourself in the treasured history of Dalt Vila, the Old Town, cobbled narrow streets on a little mountain by the sea with panoramic views, delicious sustainable local cuisine, stunning coastlines, hidden coves, soulful countryside and stunning sunsets.
Throughout the year, London City professionals go directly from the office to the nearest airport and fly out to enjoy some culture-rich R&R. There are daily, direct flights with British Airways 2-hours 10 minutes from London City Airport to Ibiza. Peak season flights available from Gatwick, Heathrow, Manchester, Birmingham, Edinburgh, Cardiff, Bristol and most European capital cities.
My clients stay in one of two hotels. 1). 5-star luxury boutique hotel close to town, or 2) 5-star luxury agroturismo hotel in the countryside (agroturismo is status granted by the Spanish government for naturally sustainable agricultural luxury hotels). Both hotels are designed to very high standards and both have swimming pools, massage, holistic therapies, spa and gym facilities to ensure you unwind.
Dates and Prices
3-night and 6-night breaks – availability from 2nd April to 31st October 2018.
Please contact me for a brochure and further information.